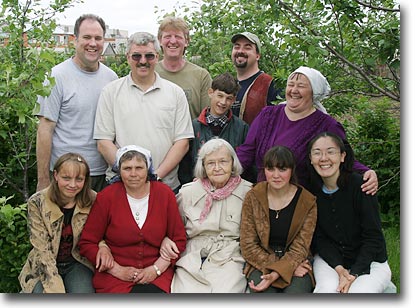 Front row L to R: Anastasia (in red) and Elizabeth sit between Anastasia's two daughters. Far right: Janat Nurbayeva, translator and English-as-a-second language teacher. Back row L to R: Tom Dalgleish, Pete Dunton, Mike Tompkins, Anton, Justice Carmon and Nadia.
At that moment, Elizabeth Lewshenia held Anastasia's hands and helped her pray to receive Christ. Only after the service did we realize what a God event this truly was.

This was the first time that Anastasia had ever set foot in an evangelical church. She wasn't invited to attend the service. She didn't know that a group from the U.S.A. was going to be there that night. In fact, I don't think she had ever talked with any of the Russians who attend the church at Lapsary.

But incredibly, there was one person there who Anastasia did know. You see, many years ago, Anastasia often visited the home of a woman who listened to Elizabeth and Constantine Lewshenia's radio programs aired to Russia from Quito, Ecuador. At that time Anastasia wanted nothing to do with God and she tried to ignore what she heard. But God planted seeds in her heart and in a way that only God can do, brought her and Elizabeth back together in a wonderful and truly amazing way.