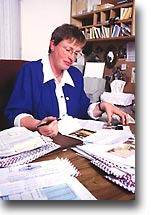 Leica began selling rangefinder cameras to the public in 1925. During the following 40 years they sold nearly 800,000 LTM (Leica Thread Mount) cameras. While many of these are now in the hands of collectors, some people still enjoy using them and there are lots of LTM lenses around.

If you really want to play the older optical field you can get adapter rings which allow the use of (LTM) lenses on M-bodies. Actually you can use Canon LTM, certain Minolta, Zeiss, Nikon and "Russian" lenses as well. Prices on those lenses are often far cheaper than the equivalant M mount lenses. In many cases LTM lenses perform admirably as long as you use a good lens shade. But please don't expect those lenses to compete with or out-perform current designs.

You can now purchase new Voigtlander LTM lenses by Cosina that can be used via an adapter on M-series cameras. For the extreme wide angle lover, Voightlander offers 12mm and 15mm lenses at very reasonable prices, wow!