OK, I realize that this is supposed to be Duane's Photographs of Ecuador, so why the pages on Peru?

Well despite the 600 year rivalry between Peru and Ecuador, these two countries have more in common than most people think. In fact, I would argue that you cannot really understand Ecuador's history until you understand it's historic relationship with Peru.

Lima is the capital city of Peru and was founded on Jan 6, 1535 exactly one month after the founding of Quito on Dec 6, 1534.
| | |
| --- | --- |
| | During the conquest of the Incas, Francisco Pizarro had been looking for a place to establish the capital of his newly conquered empire. Francisco Pizarro desired a spot near the ocean that would facilitate communication back to Spain via coastal ships. Since Quito was originally named "Villa San Francisco de Quito" or "San Francisco" in Pizarro's honor, Pizarro chose the name "La Ciudad de los Reyes" or "The City of the Kings" for his new capital. However as fate would have it, the city was built near the river Rimac which the Spaniards called Lima and the rest is of course history. |
If you are going to Lima, the place to start is the Plaza de Armas. Like all Spanish cities, life revolves around the main square. The three most noteworthy sites on the square are the presidential palace (top & above), the cathedral (right) and the archbishop's palace(below).

One of the things I enjoyed most about Lima was the historic old buildings and their architectural details. Unfortunately my Lima experience was limited to one day and there was a lot more that I really wanted visit.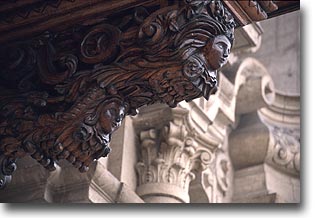 Since I am a bit of a certifiable museum nut and the weather was pretty overcast and gloomy for photography, I decided to visit some of the museums. My first stop was the Cathedral.

It is here that the conqueror of the Incas, Francisco Pizarro is buried. The mural on the wall illustrates "the 13 de fama" or "the famous 13". Francisco Pizarro drew a line in the sand and called upon his men to choose whether to join him in the quest for riches to the south and live like kings or return to Panama as naked cowards so to speak. Apparently they weren't real convinced of these riches nor cared much for Pizarro at that point as only 12 men crossed the line.
Realize that Pizarro was already deeply indebted and they hadn't seen any real tangible evidence that any riches laid ahead. Pizarro had already forced the group to wait on a small island north of the Ecuadorian/Colombian border for several months while they waited for reinforcements.

Pizarro's ultimatum was really brought on by the fact that 2 ships had been sent by the governor in Panama with orders to bring back Pizarro and his men. It seems that some of Pizarro's men were so unhappy they had sent hidden messages back with the first ship to the wife of the governor of Panama pleading deliverance from Pizarro, who they described as a ruthless tyrant. His men were already demoralized by horrible conditions, (four men a week were dying) lack of food, insects and indigenous attacks in which Pizarro's partner Diego de Almagro lost one of his eyes.

It should be noted that while these 13 men, (along with other reinforcements who arrived later) did discover evidence of golden riches and the Incan empire from an Indian chief near Tumbez, it was not this expedition that conquered the Incas.
| | | |
| --- | --- | --- |
| | | Francisco Pizarro had to travel all the way back to Spain with pieces of gold to seek more men and finances for his expedition. But he was thrown in jail by the financiers of his original expedition as he owed them a great deal of money. While the King of Spain ignored his requests, Pizarro somehow managed to convince the Queen of Spain to release him from jail and give him the authority and finances to return for yet another expedition. So actually, it was several more years before Pizarro returned to conquer the Incan empire. |
Another site that is worth visiting is the catacombs of the San Francisco church. One word of caution. The ceilings are rather low and I hit my head rather hard several times. It was interesting, but I preferred the religious art portion of the museum. I was really fascinated by many of the similarities and differences between "Cusco" and "Quito" religious art. This is to be expected since there were various interchanges between the two "schools".

Unfortunately, every museum I went to in Peru restricted still and video photography, so I've added other unrelated photos from my trip.
The reason for these restrictions I was told is due to the extensive illegal trafficking of Pre-Colombian and religious art. The theory goes that people take pictures, find an international buyer, then steal the piece to complete the sale. One can politely suggest to the guide at this point that it would not be wise then to sell postcards or books containing images of their collection, lest the finest pieces be stolen...

While this has never gotten me any further access to take any pictures in a museum, it does make one feel better in pointing out the ridiculousness of the argument. In all fairness, I should add however that tremendous amounts of cultural artifacts from Peru and Ecuador have been stolen in recent years and now illegally reside in foreign private collections.
My favorite museum was actually the private Peruvian Gold Museum. This is somewhat of a misnomer as not only does it have an incredible collection of Pre-Colombian gold, it also has an incredible collection of Pre-Colombian ceramics, textiles, jewel encrusted mummies, axes, tools and weapons.

It also has what could be considered a whole other museum of weapons with all sorts of swords, firearms, uniforms and even Japanese samurai armor etc. that defies imagination. I should also add that it has an original portrait of Francisco Pizarro and one of his swords, as well as items of Simon Bolivar.
While I did not visit any other museums of this type in Lima.... This museum had a better collection than any in Cusco.... (and I went to them all) and quality as well as extensive quantity really boggles the mind.

Of course most people go to Peru to visit Cusco and see Incan Ruins. The highlight for many visitors is of course a trip to Machu Picchu. While this was not the purpose of my trip, I did get to both Cusco and Machu Picchu and hope to get sections written and on-line in the near future.