One of the great things about Ecuador is the wide variety of activities that one can do on a day trip.

I enjoy taking a day now and then and heading out into the mountains or perhaps even a trip to the rainforest. The area around Mindo has a lot to offer in that respect.
| | |
| --- | --- |
| | Mindo is about a 2 hour drive northwest of Quito. It's a small town off the main road located roughly halfway between Nanegalito and San Miguel de los Bancos. The town itself is rather sleepy but it's a great place for bird watching as there are some 200 species there. |
I've enjoyed two trips to the 47,000 acre (19,200 hectare) private reserve called "El Bosque Protector de Mindo." It is run locally with the help of the WWF and the Fundacion Natura. The office is conveniently located about half-way down the main street of Mindo on the left side. They prefer that you pay there and can help you find your way out to the reserve.

There is a small section of the reserve that has nice trails and a lodge where you could spend the night if you have a sleeping bag. I'd probably suggest you bring your own supply of food and water though. There are a couple small hotels around Mindo as well.

The reserve itself is located on the side of a hill and let's just say that all of the trails but one go up.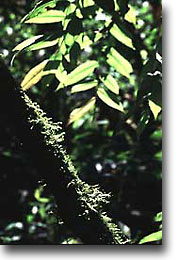 It's not all that fun to lug cameras up steep trails. So I prefer to pack my Domke 803 camera satchel inside of a small daypack. I like the daypack concept as it is easier to carry weight using both shoulders and I can keep my cameras dry (inside a large plastic bag) and out of the mud. It has the added benefit of holding my water bottle and my lunch as well.

I use the footware of choice in the jungle... pseudo knee-high rubber boots. You may want to bring a tripod and I recommend an off-camera flash for capturing images of insects. Speaking of insects... light colored clothing and deet-based repellent are also very highly recommended.
The Mindo area is a great for birdwatchers. But the rainforest is really pretty dense and little birds high up in the canopy can be hard to find. I had much better luck spotting birds on the road from Mindo to the reserve. I counted close to 30 species of birds and numerous blue morpho and many other butterflies along the way.

We also found a rarely used road that runs along a ridge above the reserve that had another 15 or so species of birds that I hadn't seen below. Keep hiking up and eventually you'll find it.

With a bit of luck, patience and a long lens, you might be able to actually photograph one of the many colorful birds. As you can see from my photos of the reserve, I wasn't that lucky nor that patient.
I find that the jungle is one of the most challenging locations for me to find images.

I think the reason I find it so difficult is that the jungle is really a three dimensional subject. Think about the fact that you are walking on a narrow trail and you are surrounded by vines, trees, all sorts of bugs and lots of leaves.
Now close one eye or take a look through your camera and all of that dimension disappears.

What you really thought was neat has now turned into a miserable jumble of stuff.

The challenge as a photographer is to recreate that dimension and hopefully find something that is visually exciting.
An obvious option is using selective focus and a relatively shallow depth of field to make your subject standout. The rainforest is helpful on that point as not all that much light makes it through the canopy.

Photographing things at relatively close distances or using a macro lens will reduce the overall depth of field as well.

You can create more visual depth by using shafts of sunlight to illuminate only certain areas of the image. A well-placed flash can produce dimension by increasing the difference between subject and the ambient exposure of the background.

I really like backlighting as it can create interesting images. Most leaves will take on a completely different appearence often becoming luminous.
There are two other reserves in the area I've been meaning to go to: Maquipucuna and the El Pahuma Orchid Reserve.

For the more adventure oriented visitor, a number of whitewater rafting companies offer day trips that start near Mindo. I went on one such trip a while back and really enjoyed it. The U.S. boat guide took us over the tallest swells and the biggest rapids we could find. It was really a lot of fun even though we had to bail out the boat a lot.

The Mindo area provides provides many opportunities to see a wide variety of flora and fauna. It's one of my favorite spots and I hope you've enjoyed it as well.